ACTION
We continue to donate to the Armed Forces of Ukraine and invite you to take part in the special action.
With each order from 50 and 100 euro we give for free already legendary Ukrainian postal sets which have become
the most wanted items among the collectors.
We bought these sets at our own cost and these funds have been already donated. We don't re-sell these sets but give it for free
to get your orders and make new donations.
When you place an order from 50 euro you will get a set "Good evening, we are from Ukraine!".
It incl.:
- Stamp
- Envelope
- Card
- Magnet from fiberboard
- Magnet opener
"Greeting "Good evening, we are from Ukraine!" became iconic in 2022 after the russian military invasion of Ukraine.
Today, journalists, officials, and military personnel start their broadcasts with this phrase, it sounds in musical tracks."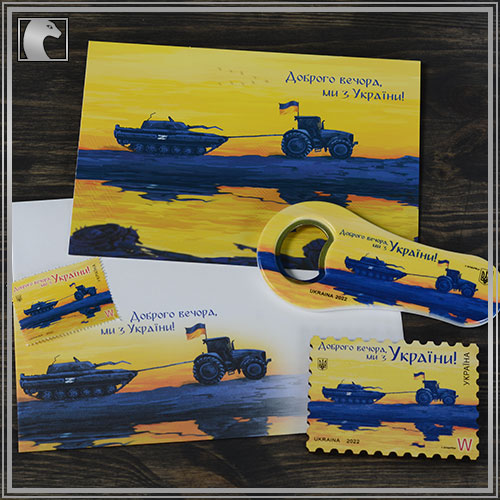 When you place an order from 100 euro you will get 2 sets: "russian warship ... DONE! Glory to the nation!"
and "Good evening, we are from Ukraine!".
It incl.:
- 2 stamps
- 2 envelopes
- 2 cards
- 2 magnets from fiberboard
- 1 Magnet opener
"On April 12, 2022, Ukrposhta put into circulation the postage stamps "russian warship, go…!", which artistically depicted
the first days of russia's military aggression against Ukraine and one of the brightest pages of resistance of the Ukrainian military
to the occupier on offer to surrender. The very next day after the stamps were put into circulation - on April 13 - it became known about
the successful operation of the Armed Forces of Ukraine, as a result of which the flagship of the russian Black Sea Fleet was damaged
and sank on April 14, 2022."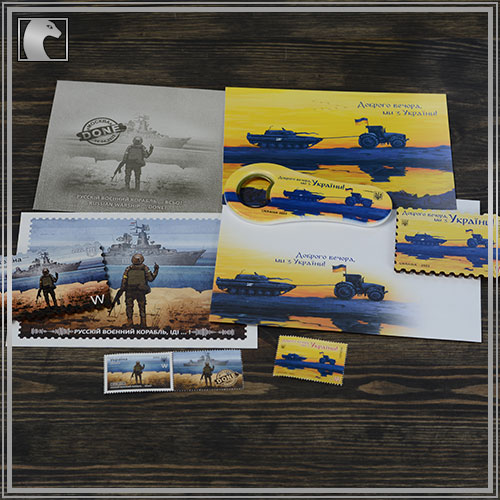 The duration of this action is unlimited but if you wish to participate do it right now.